At Cycle 9, we love Surly's no-nonsense approach to bicycles.  These bikes are not flashy or trendy, but are elegant and refined in their functionality.  Made from CroMoly steel, Surlys are built to last and ride beautifully.
Take the Surly Cross Check, for example.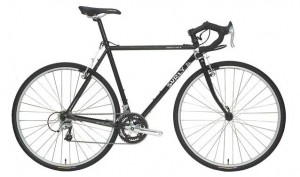 The versatile Cross Check handles all terrains with ease.  It's a great commuter bike, offering a fabulously comfortable ride.  After work, go ahead and hit the trails.  You'll love how this bike handles off-road as well.  Reviewers rave about this bike and for a good reason.  Come on in to see what all the buzz is about!
Another favorite at Cycle 9 is the Big Dummy.  Don't let the name fool you, this bike isn't a clunker.  It's made for hauling a lot of stuff and it does its job gracefully.  Compatible with Xtracycle accessories, the Big Dummy can carry a week's worth of groceries, an 8 ft ladder, passengers, or almost anything else you can think of – all while riding smoothly.  The options are endless and car-less, which makes this Big Dummy anything but dumb.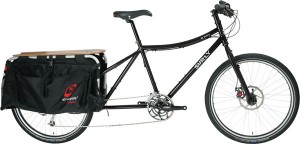 Ok – I quit this gig.  I'm packing up my crap and heading out West.  Peace out amigos!  While you're watching the evening news, I'll be riding into the sunset on Surly's touring bike, the Long Haul Trucker.  Because the Trucker's frame geometry is designed to carry a lot of stuff, I can make it out to there with everything I need.  The ultra durable components make me confident that my bike won't let me down on the way.  Once I've reached my destination, I'll still have a great bike to get around town.  Yup, the Long Haul Trucker is my long haul ride.  It can be yours too.  Stop by Cycle 9 to see why it's one of our best sellers.