I recently returned from a trip to Hilton Head Island, in South Carolina. Hilton Head is located at the very south part of South Carolina, close to Savannah Georgia, and is a very popular beach vacation location. My parents, who participate in the condo swapping programs that have become popular lately, had a week to spend there and invited us to come down. I'm not usually so big on this kind of vacation, but the beach is really nice on the Island, and the kids love the beach. Plus, the island is populated with tons of bike paths, which make it theoretically easy to get around (more on that later…). So we decided to go for it.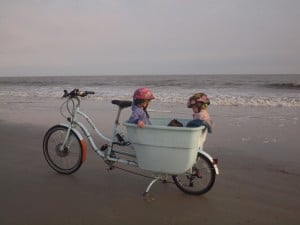 After a very long and tiring drive, punctuated by changing a flat tire on the side of I-95, in the dark (of course) we arrived at Hilton Head. The island is built up with lots of resorts and expensive homes, grouped into "Plantations" – really just a fancy southern name for parts of the island. Maybe it had to do with the original plantations on the island back in colonial days, I'm not sure. Now, each Plantation has it's own cache and level on the hierarchy of perceived wealth. The resort where we were staying is owned by the Mariott group, and was located in the exclusive "Sea Pines" Plantation. To access this Plantation, you must go through the guard checkpoint, where the guards collect $5 from you if you are not a "guest" and enforce a cadre of rules designed to enhance the exclusivity of the place at the expense of common sense. I think they just don't like anything that does not conform to the aura they want to project.
For example, we brought along with us a sit-on-top kayak, in case we wanted to explore some of the area via water (it is an island after all). Well, apparently, the Sea Pines homeowners have a prohibition against any kayaks or surfboards being "displayed" in the open, on top of a car, etc. They are supposed to be kept in a building out of view at all times. The guard at the gate determined by sight that our kayak was too big for our resort to handle, and almost didn't let us through the gate (what were we supposed to do with the kayak?). But after lengthy argument, he agreed to let us go to our resort and see if they could find a place to store the kayak out of site. They did (fortunately, the Mariott people were very helpful and accomodating) and sure enough, the guard's supervisor came to check on us 15 minutes later, just in case we decided to ignore this prohibition.
Anyway, I'm digressing, because after that original incident, the rest of the vacation was actually pretty nice.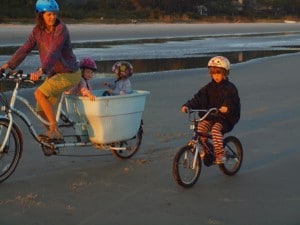 So, since we had all 3 children with us, we decided to bring the Madsen bike to transport the smaller ones, and my older (5-yr-old) daughter's kids bike, and a third bike to get everyone around. While the roads on the island are narrow, there is actually a very good network of separated bike paths that run along the sides of the roads, so you can get from your accommodation to the beach and back via bike.
Because of this network of paths, a large industry of rental bikes has been built up, and many people rent bikes for the week. Most of these are beach cruisers with one speed (the island is totally flat, the only hill being the bridge over the inlet) and appear to be fairly low quality bikes. I discovered the reason for this right away, when we rode past a rental place with a sign "$20 rental for one week". Now, the last time I rented a bike was when I was in Moab, Utah, and rented a mountain bike. It cost me $40 for ONE DAY. Similarly, a bike rental in Boston, to get around the city, cost even more than this. So obviously if you only pay $20 for an entire week, you get what you pay for.
Well, we did quite a bit of riding while we were there, in fact we didn't use the car at all (except to go to the tire place to buy a new set of tires that is!). My daughter could easily ride safely on the separated bike paths, and we didn't have to worry about her getting caught up in traffic. She rode over to the Children's museum and back with her grandparents, rode to the beach, even rode ON the beach. Riding on the beach is very easy and fun when the tide is low. The beach there is very flat, which makes for great sand for riding, and you can go the whole length of the island, several miles.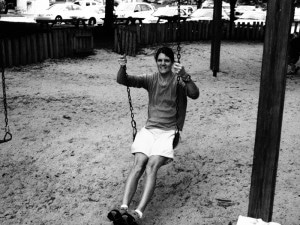 One day we all took the trails and rode up to the harbor, where there are lots of yachts, (many of which are very, very large), a great playground, and some little shops and restaurants. We took a round-about way on the way back, having to stop and examine the bike path signs that are dotted around the intersections here and there. The signs were a good thing, because it was pretty easy to get lost with everything looking the same (the uniformity mantra works!).  In fact, I was not sure we were on a different path until we rode past what appeared to be a heritage vegetable farm, which I didn't remember from the way out. Hmmmm… well, it was a nice day and we weren't in a hurry.
Occasionally while riding, we would go past a little "borrow pit", where we spotted some small alligators. (I wonder where they take them when they get too big?). A borrow pit is where they've borrowed some soil to fill in another place, such as where the road is. It's common in areas that were swamps and wetlands at one time. They just move the dirt around and make them ponds and berms – easier to travel around. The kids all enjoyed seeing the alligators and the herons. We never saw the alligators move much. They have a way of making you wonder if they really are alive….just so you might come a little bit closer….and closer….
As we rode around, we encountered many other people on bikes, some of which probably did not ride a bike except for once a year, at Hilton Head. This was evidenced by several near-crashes I witnessed involving curbs and pilot error. One couple almost colliding with each other while getting started. I thought the fact that these people were even out on bikes was pretty cool though, because here is an opportunity to see that one can actually get around by bike. How great! The side paths really were important in making people feel safe to ride a bike and not have to deal with traffic. It was obvious that the investment the Island had made in bike paths really did help people get around while they were on their vacations, and hopefully relieve some traffic and parking problems at the beach.
But at the same time there were some gaping holes in the infrastructure when it came to actually using the bike to go anywhere except the beach. This was especially true because if you had to go somewhere there wasn't a bike path, the roads themselves were very busy, narrow, and populated by heavily traffic.
For example, we decided to go one day to get some Gelato at a great little Gelato place called Pino Gelato. The Gelato place is in a strip mall Hilton Head style – that is, the stores are arranged in a semi-circle, and there are trees in the parking lot. It's on the north side of the main highway that transverses the island. The bike path is on the south side of this highway (no path on the north side). Fortunately, there was a stop light at the entrance. But to cross at this stop light required navigating a 4 lane highway with right and left turn lanes and turn arrows, no crosswalk or pedestrian signals. We had the Madsen bike with the 2 little kids in back, my 5-year old on her little bike, and 3 other bikes. We decided the best strategy was to cross en-masse, so we waited for the cross light to change, and then walked our bikes quickly across 8 lanes, avoiding right and left turning traffic. At least we were a highly visible group all together. It was not an easy crossing, but everyone made it safely and had their gelato. Of course we had to repeat this in the opposite direction.
The thing about it that was most annoying was there was absolutely no provision for any kind of crossing at that light. So if you were a pedestrian, you would also face a pretty big risk just getting across the street. And once across there is no shoulder, sidewalk, or any other way to travel down that side of the street if you needed to go to the next establishment, for example. The way it is set up, the only way to easily access any business on the north side of the road is by car.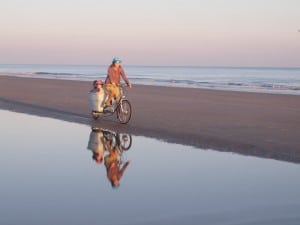 The other time we ran into a similar issue, although this was not quite as bad, was our trip to the grocery store. With the Madsen, we were able to do this easily without the use of the car because it is SO easy to load that bike. (Take grocery sacks out of grocery cart, pile in the bucket, return grocery cart, off you go!). Again, there was no way to access the grocery store strip mall except for traditional car routes, so we negotiated traffic and a convoluted parking lot with a lot of cars backing out of spaces, turning, etc. There was actually a small bike rack at the grocery store (better than I've seen in many places!). This traffic negotiation was not a big deal for us, having ridden in traffic a lot and being very comfortable with it. But for these people who can barely negotiate the ramp up the curb to the bike path, there is no way they would ever access this store by bike.
The other strange thing I found about the bike infrastructure was that there was a lack of bicycle racks at the public access points to the beach (also a lack of car parking). As you approach the public access point, there are signs on every fence stating that bikes locked there will be removed. But I didn't see any actual legitimate place to park your bike. I guess you are supposed to take it with you onto the beach? I think this has more to do with this idea of exclusivity and keeping the "rif-raf" at bay. Don't provide any parking of any kind, and this discourages beach use except for the people who have actually paid for ocean-front accommodation.
So, overall, my reaction to biking on Hilton Head island was mixed. On the one hand, the island has a great network of paths to get you around most of the places you need to go. There are periodic signs that show you a map of the network and the island so you know where you are. And the paths encourage bike use by many, many people who would otherwise be driving around and clogging up the streets even more than they are.
But on the other hand, the infrastructure falls short when it comes to using the bike as an alternative to the car for practical purposes, such as groceries, or even other shopping. Those parts of the island are still heavily dominated by the car/strip-mall pattern of development, although with a flair to make it seem not so ugly. I found this to be a disappointment, because with just a few changes, it would be possible to greatly expand the way people could get around.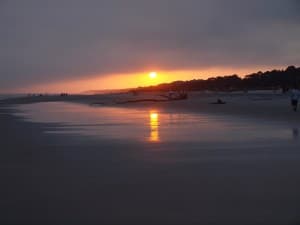 But at any rate, I still think that most cities could learn a lot from the Hilton Head model and this kind of investment in alternative transportation infrastructure would really pay off with reduced traffic and higher quality of life.