in california. We are especially focusing on their commuting and city bikes. The
is a great, inexpensive steel framed urban assuault vehicle (pictured below, $455 MSRP, with our in store price lower). The Novato is a slightly more expensive aluminum version of the same ($570 MSRP). And the Belvidere and Corte Madera are very nice 700C wheel commuter bikes, purpose built with fenders, racks, and all the fittings, at very affordable prices, $635 MSRP for the Corte Madera, and $530 MSRP for the Belvidere (our in store prices are often a bit lower for items in stock). Last but not least are the more style and comfort oriented bikes, including the Euro-stye step through frames on the San Rafael (pictured below) and the Stintson.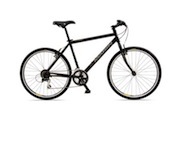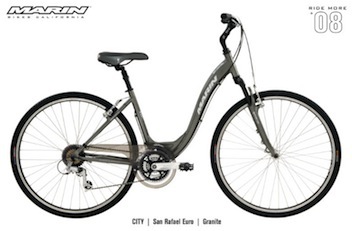 • We have the comfort/semi-recumbent bikes from
in stock. We carry both the Dream and the Journey models. We'll post a picture soon!
• We have started carrying frames from
. We can build a complete bike for you, or just sell you the frame. These are high quality, very nice steel frames using Tange Prestige chromoly, the best in the business. They make a
, a hardtail mountain bike, a cyclocross frame, a track bike, and a road bike model. Morgan is building up a Juicy 29er that will be available for demo rides (when she doesn't have it out on the trail). We are also happy to build a custom electric ride that combines the frame, parts, and electric kit of your choosing.
• We now, finally, have some of the eZee kits in stock again. Hurray for that. Get your order in early, these premium electric bike kits are going fast. The price is still $1250, and you can buy one in the shop, or order online through our web store.
• We have an order of Crystalyte gear and NiCad batteries arriving very soon.
• We have a bunch of accessories in stock, and we are way overstocked on tubes and lights, so that stuff is on sale. Drop by, make us an offer we can't refuse, and we won't!
• Sadly, the cargo bikes and accessories are out of stock for now. The Xtracycles are all sold out through at least mid August. We have one Yuba Mundo left in stock, but we have a customer who says he's going to buy that one. Those won't be back in stock until August at soonest, either. The Big Dummy is very backordered, and though we'll do our best, the soonest we can hope for is August.
• In better news, our Cycle 9 Dolores bicycles are on their way, and should be arriving in a few weeks. Hurray for that, it has been a long wait! The waiting list is growing, and there are only a few of these that aren't already spoken for. So get your order in early.
• The BionX electric wheel kits will start arriving in the second week of July. However, most of those are spoken for, we already have a waiting list. Please
if you want one, we'll do what we can to get you one as soon as possible.
• Last, but not least, we have some other great things brewing. Keep your eyes open here, and we'll announce them as soon as we can.