It's spring, and we're getting geared up for 2010. We just received our first shipment of Yuba Mundo bikes, Version 3!  Including some component upgrades and minor fixes from version 2, the Mundo still rocks at the world's most solid utility bike.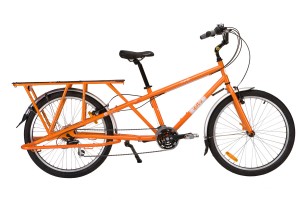 Version 3 comes in Tangerine, Black or Carolina Blue (well, they don't call it Carolina Blue, but we tarheels know better….). Some impressions:
I love the new kickstand on this bike. The kickstand (or lack thereof) was one of the major drawbacks of the earlier versions of mundos. This one is a single sided kickstand that is heavy duty enough to hold the bike up even when it is loaded. If you're sticking 400lbs on the back, you might need an alternate plan, but for your average load, this kickstand is going to be great.
Continuing from earlier versions, the bike has a really nice, upright riding style, but not so upright that you can't handle a heavy load. The handlebars are a nice cross between straight bars that tend to kill my wrists after while, and cruiser bars with so much reach that they don't have as much stability. And the seat is actually a comfortable one out of the box – something that I can't say about most bikes
The carrier is narrower than on the original mundo, allowing for 2 childseats to be attached to the rear deck. And Yuba has their own childseat that fits great and keeps the kids safe.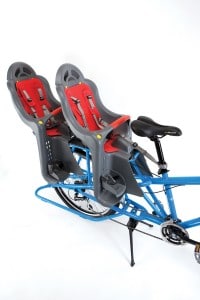 The gearing is now 21 speeds with a triple chainring in front. The gearing is quite low, allowing for lots of spinning when moving those loads around town.
The frame is still rock-solid steel without flex. If your're looking for a bike that can handle a lot of weight without flex, this one is it. The rear wheel still has the oversize axle and 48 spokes of earlier versions, all designed to hold up to whatever you throw at it.
A great improvement from the shop perspective and for online customers is a NEW BIGGER BOX, which means much less assembly required for the new Yubas. The version 2 bikes were packed in the box "like a Chinese puzzle" (according to mechanic and expert bike packer, Chris) requiring a 12-page document to assemble it. The new bike actually ships with the fork and rear wheel installed, much like typical bikes do.
But my FAVORITE part about the new mundo is the great feel of the bike. For a bike that looks heavy and is heavy duty, once you get on it, you hardly even notice that. The ride is easy and enjoyable, and it really is a bike you could use as your everyday vehicle without it feeling clunky.
Of course, electric-assist is always an option for cargo bikes, and the Yuba is no exception. We've worked out a couple of good kits for this bike to help save your legs and make your ride more enjoyable. Stay tuned for details.
(p.s. as of March 2010, we still have ONE version 2 6-speed green mundo available at a closeout price)