Love a good story? Check out this Interview Series
I love a good story, especially an ADVENTURE story. And one that includes bikes is even better. So I'm super excited to get a chance to interview some awesome people who've taken on a little adventure of their own!
I'm launching an INTERVIEW SERIES of people who have gone on Bike Tours. The Interviews will be via phone/webcast, so you can listen in no matter where you are located. What could be better than hearing cool stories from the road? It's like "This American Life" only about bike touring. You can listen in and ask questions on all of these interviews. You'll be entertained, hear some GREAT stories, and learn something about living in the HERE and NOW. But watch out, you might be inspired to kick up your heels and take off on a tour of your own!
The FIRST interview will be:
Wednesday, Oct 27th, 9PM* eastern (8pm central, 7pm mountain, 6pm pacific)
Russ Roca and Laura Crawford from The Path Less Pedaled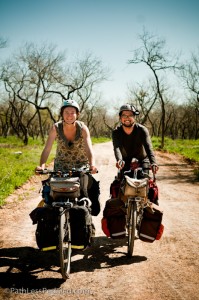 Tune in and find out the answers to questions like:
Why Russ Roca and Laua Crawford of The Path Less Pedaled decided to take a left turn from "normal" life and begin an open-ended journey by bike



How they overcame "The Great Fear" of bears, logging trucks, drug lords, and other fears of the road, and what they discovered this fear was about

What they ate for 14 months on the road without access to a refridgerator, and how to eat on a tour without feeling deprived of creature comforts

Why the balance between spontanaity and planning is critical to an enjoyable tour

The best way to get started in bicycle touring

What they learned about themselves and about life while on the road


And much, much more

…
* If you can't make that time, you can listen to the audio recording. Register to find out how.
What's Next?
After this interview, we'll do a series apx every 2 weeks. The guests are still evolving, but will include an interview with Jon Watts – a spoken word musician who did his last music tour on a Radish cargo bike. He had ZERO bike touring experience before deciding to ride from Richmond, VA to Boston, Mass with his guitar, amp and all his stuff. I'm really looking forward to this interview because Jon has such an awesome viewpoint on life – he's always a delight to talk to!
How To Sign Up
To sign up, register at Bike Touring Bliss. You'll get all the info on how to call in, who the guests are, and how to listen to the audio recordings.
I can't wait for the first interview! I hope you'll take a few minutes to join us.