Just take a deep breath, sit back, relax, and…pedal?  Welcome to one of the most comfortable and ergonomic bikes in the business – the Journey by Day 6 Bicycles.  If you can imagine your favorite armchair sprouting wheels and pedals, you'll picture a ride similar to this bike.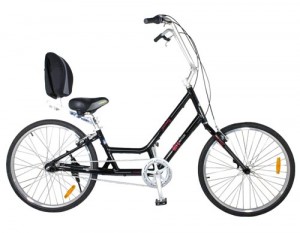 Everything about the Journey is designed for pure comfort.  Instead of leaning forward on a tiny little seat, sink into a cushioned backrest.  Your hands will rest naturally on the fully adjustable handlebars while you sit upright.  The lightweight aluminum frame offers a smooth ride and allows for an easy step-through rather than a high leg swing.  The seven speed internal hub shifting is reliable, easy, and can operate while stationary.
If aches and pains are keeping you from cycling, it's time to re-think your bike!  Come on in to experience the enjoyable ride of the Journey.