I love folding bikes for a couple of reasons.  The first is that they're great for traveling.  Compact enough to store in a suitcase, these bikes are the perfect way for cyclists to avoid expensive cargo charges on airplanes.  The second reason is that commuters or urban residents don't have to leave these bikes on the street.  Instead of worrying about chaining down all your components, it takes just a few seconds to collapse a folding bike and tuck it safely into a corner of your office or apartment.
Not all folding bikes are created equal, however.  At Cycle 9, we're carrying the high performance Melon Slice.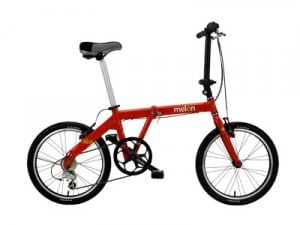 I was first attracted to the Slice because of it's snazzy red frame and funky design.  But there's more to this folding bike than just looks.  The aluminum frame is super lightweight and durable.  The short wheel base allows for agility, making it readily responsive to quick turns.  And although the wheels are only 20″, the super-sized front chainring compensates, making it easy to get this bike moving!  The comfort and ease of the ride make this bike truly enjoyable.  If you're looking for a high-quality, comfortable, compact bicycle, I would definitely encourage you to stop by and check out the Melon Slice.
And if red isn't your style, we also carry the Slice in white.