What if …instead of driving the I-95 corridor in an enclosed metal box….you rode it by bike instead?
Hear the story of one traveling musician who did just that – Jon Watts. A Quaker, poet, and song-writer, Jon came into Cycle 9 last fall with the idea to do his next musical tour of the east coast via bike. Could we help him find the right equipment and get started?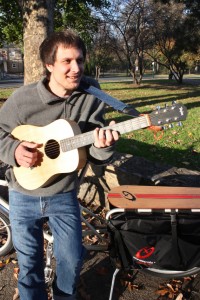 We set him up with an Xtracycle Radish cargo bike to carry his stuff, a helmet, safety flag, water bottle and some other things he'd need along the way. You see, while Jon was a bike rider, going long distance was not something he'd ever tried before……
Want to hear what happened? Tune in to a LIVE interview with Jon as part of our Bike Touring Bliss series
Find out details like:
What do you do when you come to a large gray place on the map with barbed wire around it on the ground?
How do you get into Manhatten on a bike?
The upsides and downsides of riding fast
Dealing with urban wildlife (and not the human kind)
The most exciting and most boring parts of the east coast via bike
And much, much, more….
This interview will be Monday, November 15 at 9pm Eastern. Can't make that time? Registrants will have limited time access to audio replay.