Kick-off tour for Jon Watts
Cruiser Ride and Cycle 9 Open House
On Friday, March 19th, we hosted our FIRST ever, Cycle 9 Cruiser Ride and kick-off event for Jon Watts' 2-wheel tour.
A hardy group of bikers, including a strong showing of Xtracycles and cargo bikes, and several kids along for the ride, met in front of the store Friday evening. Morgan brought the music in the form of an audio amplifier and speakers strapped to the Big Dummy to give it a true cruiser feel. About 20 strong, we headed out for a ride around Carrboro, picking up a few extras about half way through the ride even. I rode with my 6-year old and 2-year old daughters in the back of the Madsen, and my 6-year old kept up a lively stream of jokes with some of the other riders. The weather was warm and perfect for riding and we rode about 45 minutes, turning some heads along the way as this strange conglomeration of bikes passed by.
Reactions to the ride were positive and there were several comments of "we should do this again". So in that vein, we're going to organize a regular Cycle 9 cruiser ride for casual riders and families. Stay tuned for more details.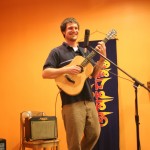 After the ride, we enjoyed music from Jon Watts next door at the Looking Glass Cafe. Jon gave a great performance as his kickoff event for his 2-wheel tour via Radish Bike. He's really excited to do this journey from Richmond to Boston by bike. I talked to him about his plans, and he's got some, but it sounds like an adventure in the making. We'll be following Jon along the way on his video blog, so be sure to stay tuned for more.
———————-
Hey all – wanted to announce this cool upcoming event at Cycle 9. Late last fall I got a visit from Jon Watts. He is a spoken word/music artist and was going on tour in the spring, but wanted to do by bike instead of car or train. He had found our shop and came to test ride our longtail bikes – the perfect setups for him to carry his guitar, amp, and other items he'll need on the trip. I spent some time talking to him and listening to his music and found him to be a very interesting and spiritual person who was serious about his music, but also serious about living out his ideals. Thus, the bike tour.
So we decided to sponsor his trip via Xtracycle Radish, from Richmond to Boston. As a kick-off, he's giving a show here in Carrboro and we're having some other fun stuff to go along with it. You can find links to Jon's website and music samples below. And here are the particulars of the kick off event:
Friday, March 19th
Cruiser Bike Ride, starts at 6PM at Cycle 9. Open to all levels and ages! We'll cruise around Carrboro and Chapel Hill for about an hour, just for FUN.
Jon will perform at the Looking Glass next door starting at 8PM
We'll have an Open House at Cycle 9 from 7-9 for anyone wanting to check out the bikes.
Jon Watts is a Quaker spoken word poet, guitarist and producer. The Radish is a longtail cargo bicycle that Jon is loading up with gear and riding from Richmond to Boston on the 2010 Two Wheel Tour.
See Photos of Jon and his Radish
Read his blog entry on why he's decided to bike this one
Jon lived in Carrboro for the last year and a half before moving back to his native Richmond, VA. He is excited to be back and celebrating the beginning of his ambitious tour with the bike shop that has been so supportive. The public is invited to join us in an hour-long cruiser ride around town (to meet at Cycle 9 at 6pm) before settling to hear some music and see some sweet bikes just next door to Cycle 9 at the Looking Glass Cafe.
Jon's music has been described as:
"Amazingly Fresh." – Niyonu Spann, leader of Philadelphia based Tribe One
"Deeply Moving." – Max Carter, Director of Friends Center at Guilford College
and
"Remarkably Original." – Chuck Fager, The Journal of Quakers in the Arts
Check out the music at
www.jonwatts.com