So, Friday is supposedly the biggest shopping day of the year. Is it really? Who knows? I think most people tend to go to the malls if they go out on this day, but we here at Cycle 9 have decided to honor it anyway with some ONE DAY instore specials for those of you brave enough to venture out! Maybe you'll find just what you are looking for?
Here are a few of the great offerings you'll find. (Remember these are only for Friday)
As an Introductory offer, pick up one of our Batavus Diva bikes. This Dutch bike company is one of the oldest in the world and the bikes are STILL made in Europe – that's something very rare indeed these days. Since the Dutch use their bikes every day, they are built with utility and comfort in mind, but without sacrificing style. The Diva is a classic, including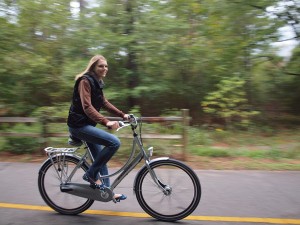 Comfortable upright riding position and easy on/off. You can ride this bike in your work and street clothes comfortably and worry-free.
The ultimate in weatherproofing with Fully enclosed chain case, internal rear gear hub, and rear coaster brake. Leave this baby out in the rain and she'll still run for you in the morning.
Built-in functionality, such as front and rear dynamo lights, run without the need for batteries.
These bikes are regularly priced at $1,150. But Friday only, you can pick one up for JUST $870.
Also as an Introductory Offer, pick up on the Basil Mirti bag.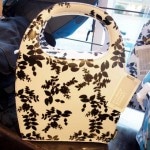 This bag has built in hooks to hang on your rack like a pannier, but it looks like a handbag, so you don't look dorky carrying around a bike bag all day. The hooks even zip out of site under a hidden flap. The bag is made of waterproof material in case you get caught in a shower, and has a great european look. A great gift item.
Regularly $65, on Friday only, you can pick one up for JUST $45.
For bike riders and commuters everywhere, we'll be offering Planet Bike front/rear light sets for 25% off.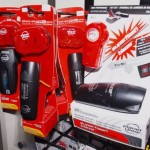 Be seen on the road with these popular and easy lights. And even better, Planet Bike donates 25% of their profits to bicycle advocacy groups. Those are the hard working groups out there that advocate for better bike infrastructue and rules that we all benefit from. It's a great company and one we are proud to support. Now you can get some stocking stuffers and support them too! (AND be seen on the road!).
Regularly $19 – $45, on Friday only, you can get these for $14.25 – $33.75 (25% off!)
Because the whole holiday season is a little bit Nutty, it's only appropriate to offer our great Nutcase Helmets at a special discount.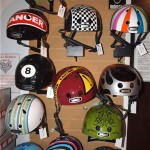 These helmets protect your head and add some smile to your day at the same time. Why get a regular bike helmet when you can get one with your own style? From DANGER! to colorful swirls, find your Nutty style today and love your brain at the same time.
Regularly $45, on Friday only, you can get one of these for just $35
If you're looking for something for that bike lover who has it all, consider some bike art to hang up and show their love for biking.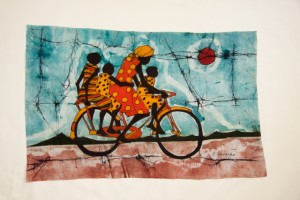 Our beautiful bike-themed batiks are stunning and fun. Batiks are a hand-dyed cloth picture that is suitable for framing or use in quilting or cloth projects. These batiks were hand made by artist Richard Mubiru in Uganda, who supports his family and educates his children through his trade. He has been able to send 4 children to higher education through the selling of his artwork.
These unique pieces of artwork are regularly $40, but on Friday only, you can get one for just $25
In addition, we'll cook up some other offers for you, so stop in and see what we have  (and avoid the malls at the same time)!