Earlier this month, we got a call from Tami Schwerin of the Abundance Foundation, about a local event they were hosting. Would we be willing to shuttle local celebrities using our cargo bikes, built for hauling people? We're always happy to participate in these events, so the answer was SURE – What's the event?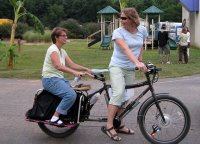 Turns out this was a great local confluence of people working to make a change in our community. The event was the World Premier of a documentary film about the Paperhand Puppet Intervention. This is not the puppet show you remember from Sesame Street. The Paperhand people are a bunch of social advocates who make giant puppets that are controlled by several people with long poles, and it is amazing how lifelike they can seem. At one of their shows that I attended, my then 3-year old daughter thought one of them WAS real (and kind of scary as it was 20 feet high) and wouldn't go within 100 yards of it, even when it was propped in the corner and unmoving. The mission of Paperhand is to advocate for social change and inspire people through art. Every year (among other events), the group puts on a show at the Forest Theater, a very cool outdoor amphitheater in Chapel Hill, NC made with stone steps and towers. (I actually first found out about the group because I wanted to see some kind of show at the Forest Theater.)  The show is set around a theme and includes giant puppets, masks, stilt walkers, great music and TONS of community. Every show I've been to has been packed with people.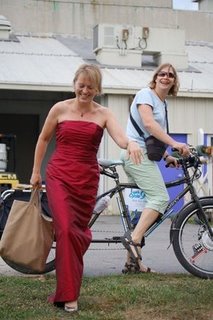 Delivering a Happy Customer

In 2007, the Southern Documentary Fund sponsored Fork in the Road Films to p
roduce "A Puppet Intervention", a documentary about the group. The film follows them through the production of show "A Shoe for Your Foot" which was about simplicity and finding the beauty in everyday. July 11 was the world premier of the film and was to be attended by many supporters of Paperhand. The premier was located outdoors at the Piedmont Biofuels complex in Pittsboro, NC.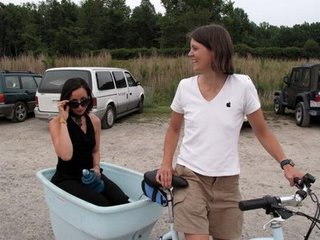 After getting a bit of a late start on the evening and rushing off, we arrived to find Abundance Foundation founders Tami and Lyle in a happy mood, sipping beer, and preparing for the guests. A large sheet hung on the side of the barn w
here the movie would be shown, a tent was set up for popcorn, beer, local homemade italian ice and other delicacies,  and a Hollywood style Green Carpet was laid out on the grass, complete with side ropes to hold back the paparazzi. When guests arrived, they would be shuttled to the Green Carpet using our bikes, a bio-diesal car, or a lawn cart, and then an announcer would welcome them as they walked down the carpet and joined the event.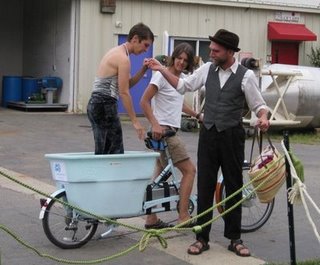 Soon, guests started arriving, and this was no ordinary event. People were decked out in their finest: full length gowns, ties and suits, and wild and crazy wigs and costumes. We went to work offering people celebrity shuttles.
At first, there was some reluctance to take us up. Ride on a bike? People had never heard of it. Some thought it would be too hard for us or it was just too strange for them. One or two really wanted to ride in the convertible. But soon, the walk from the parking lot got longer and we got better at convincing people to try it. (When have you ever had this opportunity before?).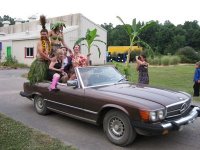 Many people were very happy to have a ride and try something new. This was a fun group after all. Morgan even gave both Tami and Lyle ride in the bucket bike (the Madsen) and delivered them safely. In the end there were many smiles and laughs as people figured out it was actually comfortable AND FUN to ride on the back of a bike.
After about an hour of shuttling guests, most people had arrived and it was time for the movie. We had neglected to bring chairs to sit on, so we just rolled the
bikes over and sat on them – perfect solution. The filmaker, Mark Barroso, took the mic and started to make a few remarks just as it started raining. Fortunately the rain was light, and everyone sat through a 10 minute shower in their fancy clothes and lawn chairs – says something about the dedication of the group. The rain stopped and the film was on. About an hour long, the movie followed the 2007 paperhand show from the idea stage through the final production. I thought it was really well done and it left me with a great feeling about this group and what they do for our community.  I was really happy to be part of this and to meet some more of the great people who make up our little corner of the world.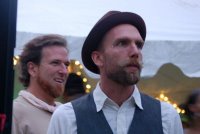 Paperhand leaders Donovan Zimmerman and Jan Burger
If you want to see the film, it will be shown again at the Carrboro Century Center on July 31st.
Read more about the Paperhand Puppet Intervention or the Abundance Foundation.
-Elise