Every spring I see the same thing–the first nice day brings a wave of cyclists to the store, enthused and looking to get themselves a new bike.  But the best deals are to be had right now. I know that it's hard to imagine lately, but good weather is right around the corner.  So why wait?  From now until February 12 we're offering special incentives on special order Jamis bikes.  Here are a few good choices:
Jamis Xenith Pro
The Xenith Pro gives you high-end performance without the high-end price tag.  High modulus carbon fiber, with an oversized fork and  BB30 bottom bracket, for an efficient yet vibration-damping ride.  Superb SRAM Force components perform with the best, and are incredibly light weight.  Mavic Ksyrium Equipe wheels have earned a reputation for both high performance and durability.
And if you want to take the next step up, consider the Xenith Elite.  Sram Red components are as good as it gets, and the American Classic Aero 3 wheels are race-ready by any standard.  I just got one for myself, and you're welcome to check it out (and the multiple personal modifications I've made, of course).  It's beautiful, and super-fantastic.
The Xenith Pro lists for $3600;  right now we're offering it for

$300 off

(just $3300).
And, as an added bonus, you'll also receive

$250 in accessories

absolutely free
!
.
Jamis Exile 2
29ers have taken the mountain biking world by storm.  Their larger wheels roll more easily, and smooth out the the jolts you'd normally receive from roots and rocks (perfect for our local trails).  The Exile 2 is a great choice if you want to find out what all the fuss is about.  A Kinesis aluminum alloy frame gets things started, designed for efficiency, light weight, and stand-over clearance.  Up front a Rockshox Tora TK 29 fork absorbs the big jolts with 100mm of travel (and lockout let's you fly on the smooth trails and fire roads).  A Shimano drivetrain provides reliable shifts, and Hayes hydraulic discs slow things down.
Or take it up a notch, and get an Exile 3, like Zac just did. It drops 3 pounds off of the Exile 2, it's  2 x 10 drivetrain is the wave of the future.
Normally the Exile 2 is $1100, but right now we're knocking that down to $1000 : 
$100 OFF
$75 in free accessories

makes it an even better deal.

.
Jamis Quest, and Quest Femme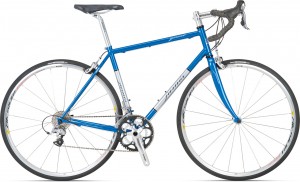 Steel road bikes have been making a comeback; Jamis has been making them for years. The Reynolds  631 tubeset provides great ride quality and durability, and the classic good looks are icing on the cake.  It's butted steel frame damps vibration wonderfully, improving comfort and reducing fatigue on our (many) chip-and-seal roads.  And you can expect this frame to last for years and years.
The Quest is well-equipped, too; Shimano's 105 level shifters and derailleurs have long been the industry standard for value and performance.  Long-reach brakes are the sort of smart spec that makes for a truly comfortable and versatile bike.  They allow the use of larger tires, improving both comfort and control.  And the compact crankset gives you some help on the hills; the triple crankset option gives you even more.
The Quest is normally $1775; right now you can get it for $1625 (
$150 off

), with

$100 in free stuff

to sweeten the deal.

.
Jamis Commuter 3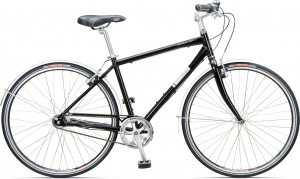 The Commuter 3 is an elegant and sturdy beast.  An aluminum frame and fork keep the weight down, for quick trips around town (or out through the countryside–you choose).  Either way, the 700c wheels will keep you moving briskly along, while the Shimano Nexus 7 speed internal hub ensures minimal maintenance will be required.  And wouldn't you rather be riding?
And though I know that I shouldn't care what a commuting bike looks like, the clean good looks of the Commuter 3 are an added bonus.
Normally $675, you can nab the Commuter 3 for an even
$600

now (

$75 off)

–and get

$50 in extra stuff free

.

.
Act now.
You certainly could wait til spring to buy your new Jamis; but then you'd miss out on the free stuff.  And where's the sense in that?  So come talk to me now (or maybe that guy Steve), and let me order you a great new Jamis bicycle.
I'm Tod, and I'm your local bike shop.