Sophisticated, trendy, worldly, and refined.  These words pop into mind when I think of the people I encountered in my European travels.  With cycling integral to the Dutch culture, the Netherlands-based Batavus creates a city bike to couple the style of Europe with the practicality of a daily commute.  These bikes are characterized by their upright posture and low maintenance design.  They're comfortable, relaxed, and the perfect way to get around town.  At Cycle 9, we're pleased to bring some European elegance to North Carolina with our line of Batavus bikes.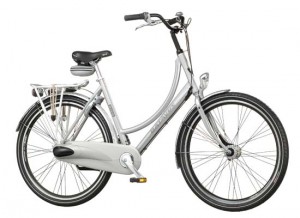 The lowest maintenance Diva you will ever know!  With 3 speed Shimano Nexus hub gears and a fully enclosed chain ring, this bike is designed for hassle-free commuting.  The wider tires allow the Diva to carry heavy loads around town, while the aluminum frame lightens things up a bit.  The cushy seat and upright design make for a comfortable ride.  The Diva also features built in lights, fenders, and racks.  Is this diva high maintenance and demanding?  No.  Sexy and stylish?  Yes.
Cross Old Dutch style with modern biking technologies and you get the best of both worlds with the Fryslan.  Attractive and versatile, the Fryslan's 5 speeds and aluminum frame allow travel over longer distances and up hilly terrain.  Like the Diva, the Fryslan has a fully enclosed chain ring, internal hub gears, fenders, rack, and an internal lighting system.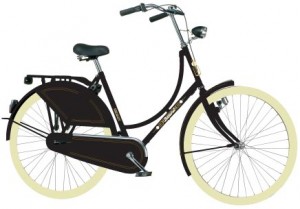 If your city commute is sprawled or hilly, the Batavus Breukelen may be up your alley.  The Breukelen has all the great commuter features of Batavus' other bikes, but with 7 speeds, a lighter frame, and a sleeker style.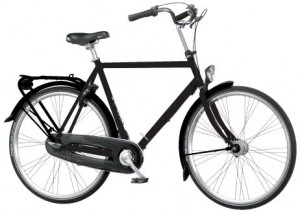 The award-winning design of the Batavus Utility Bike, or BUB, was inspired by a bent paperclip.  And like that little, practical, no-frills office necessity, the BUB's form follows the function – a great, durable way to get around town.  The handlebar design allows for a front basket, and racks can be added.  Beautifully crafted, modern, and urban, the BUB is a city-slicker's cycle.